Hallo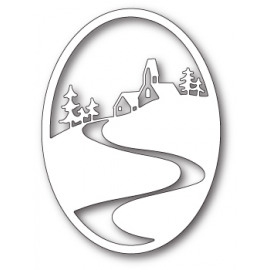 Deze keer ging ik aan de slag met een mal van Memory Box: Country Road Oval. Ze hebben zo heel wat van die achter gronden, je hebt ze in rechthoekige, vierkante en ronde vormen, telkens met een ander tafereeltje in. Ik vind deze mallen buitengewoon super!
Je kan er op heel simpele manier hele leuke interessante kaarten mee maken.
Doordat ze ook zo mooi fijn zijn heb je al veel in 1 slag.
De mal sneed ik 3x uit. Dit deed ik met m'n restjes, je hoeft enkel te beslissen of je glad of structuur papier aan de boven kant wil, de rest maakt niet uit want je lijmt ze toch op elkaar.
De achtergrond maakte ik naar inspiratie van J. Mc Quire.
Dit ging zo:
Je neemt een medium op waterbasis ( distress inkt, zigs, distress markers, aquarel verf, ...). Je brengt dit goed hevig aan met niet te veel water op je aquarel papier. Terwijl je achtergrond nog nat is, spat je er alcohol over ( je kan dit doen met de blending solution of met alcohol van minimum 90%).
Zo creëer je een achtergrond met wat blekere druppels.
De Tekst is uitgestanst met een mal van Crealies: Fijne Kerst. Dit uit zwart papier die voorzien was van dubbelzijdige tape aan de achterzijde. Dat werkt het gemakkelijkst doordat de tekst vrij fijn is.
Paneeltje is gekleefd op het mooi Florence papier: Maritime.
Ik vond het heel leuk om te doen. Ik doe m'n best om er nog voorbeeldjes mee te maken, het is echt veelzijdig in gebruik.
Eerst m'n tijd nuttig gebruiken om jullie van een leuke make en take te voorzien op de Kersthappening op 8 december.
Zie ik jullie daar?
Groetjes
Isabelle